You may have noticed: it's really hot right now. With big areas of our country racing past 42° what you need is a cold, refreshing beer — a summer ale, to be exact (and we picked our five favourites, below).
But what exactly is a summer ale?
A summer ale, like the sun itself, is bright and gold in colour. But unlike that ball of fire, these seasonal beers are refreshing. The hops finding their way into a summer ale are the type that lend citrus and tropical flavours — pineapple, passionfruit, orange — their piney, resiny cousins are left out of the mix. If there's any bitterness to be found, it's a fresh, bracing bitterness. The kind that takes the edge off a hot day.
Summer ales are easy-drinking and thanks to the usually lower alcohol content they're perfect sessioning beers. You can carry on quenching your thirst long after the sun (mercifully) goes down.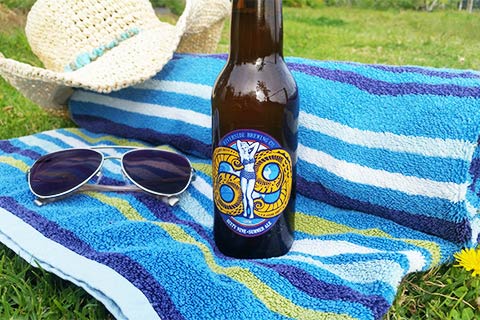 Is summer ale a new kind of beer?
Yes! And no.
Brewers have been making seasonal beers for centuries. Think of the rustic saisons brewed on 17th century Belgian farms. These were meant to revitalise the workers in the field on summer days. Or consider the blonde ale. A lighter version of pale, blondes are a well known style the world over. Blond ales, saisons, and other beers built for summer (kolsches, pilsners) have a lot in common with summer ales. But the style hasn't always been widely agreed upon.
Until recently, a beer was a summer ale because it said so on the can.
As more breweries started releasing brews with a summer ale label, the craft beer world began making official designations for the style. Today, both the Aussie Craft Brew Awards and the American Brewers Association include a listing for English-style summer ales in their style guidelines. (Though the official Beer Judge Certification Program still puts the summer ale under its listing for British golden ales — another name for blondes.)
How is a summer ale made?
One of the great things about a summer ale is the variety in the flavours, ingredients, and techniques craft brewers use to make them — all in service of producing a thoroughly refreshing brew.
Brewers aiming for a summer ale will generally go for pale or pilsner malts to make a light, golden coloured beer with a lighter body. Any sweetness from the malt is quite subtle and never gets in the way of the bright, refreshing hop notes. Wheat will sometimes find its way into the grain bill, imparting refreshing acidity and a little haze.
The hops in a summer ale are almost exclusively the citrusy, fruity variety. Citra, Cascade, and Australia's own Galaxy hops are common choices. A summer ale will give you notes of melon, passionfruit, lychee, and orange — sometimes all in the same glass. The carbonation imparts a clean, sparkling quality and the finish is dry and just a touch bitter.
The summer ale has one job
Every ingredient, every brewing technique that goes into a summer ale serves one purpose — to produce a beer that battles the heat and refreshes the drinker.
Here are 5 summer ales we're drinking to beat the heat
Riverside Brewing Co. 69 Summer Ale
Brewed using 100% Australian grown barley and wheat malts, balanced with a generous amount of Australian Galaxy hops. An easy drinking 'session' beer, the 69 Summer Ale displays a beautiful citrus and passionfruit aroma followed by a clean, refreshing finish.
CASE OF 24 NOW: $75
(SAVE $15)
Prancing Pony Sunshine Ale
Refreshing and thirst quenching, the summer ale is made with 100% Pilsener malt and hopped six times with only citrusy hops, producing lychee, mango, pineapple, orange and melon characters. Delicate malt sweetness, moderate bitterness with a citrus kick and dry finish.
CASE OF 24 NOW: $85
(SAVE $14)